Nothing is as essential as your furnace when it comes to ensuring home comfort during the cold months of winter. For it to work properly, however, it must be the right size. Today your local HVAC repair pros, Ainsworth & Co. Air Conditioning – Heating, explains the importance of furnace sizing.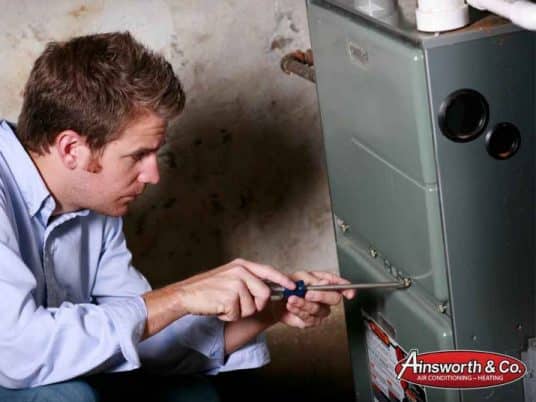 The Problem With an Improperly-Sized Furnace
The wrong size of furnace can lead to uncomfortable home temperatures and unnecessary expenses. For instance, an oversized furnace can cause uneven indoor heating. Also, the equipment's constant cycling–turning off and on again repeatedly–can cause it to wear down and may even lead to premature failure. You can encounter the same issues with an undersized furnace, though the wear and tear is a result of the non-stop operation required to maintain a stable indoor temperature on the coldest days of the year.
The Right Furnace Size
Furnace size is based on the amount of heat it can produce in an hour, as measured in British thermal units (BTUs). As one of our area's busiest furnace replacement pros, we always tell customers that one of the most important things to consider is your home's square footage. Essentially, the bigger the house, the more BTUs are required to heat it. For reference, a 2,400-square-foot home needs a furnace that produces from 72,000 to 144,000 BTUs.
But a house's square footage isn't the only basis for determining the right furnace size for your home. A variety of other factors have to be considered, including the local climate. The United States has five climate zones, and our area falls under Zone 1, which has a heating factor of 30 to 35 BTUs per square foot. Between these two numbers, it's a safe bet to go with the higher one, especially if your home is older or has inadequate insulation.
At Ainsworth & Co. Air Conditioning – Heating, you can't go wrong with the superior products and services that we offer. Whether it be a full-blown air conditioner replacement, routine HVAC maintenance or a quick repair job, we're here to help. Let our NATE-certified technicians aid in finding the right heating or cooling system for your needs.
Call us at (281) 837-8454 or fill out our contact form to request an appointment. We serve residents of Baytown, TX, and surrounding areas.